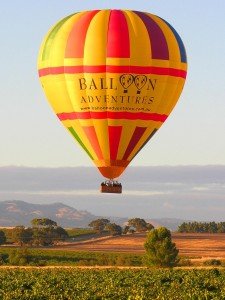 Barossa Balloon Adventures have been safely sailing the skies above the Barossa Valley for 26 years. At the launch site, the giant colourful balloon is inflated, and then it's up, up and away for an experience of a lifetime. After the flight, it's time to head off and pop some corks of the local bubbly and enjoy some fine Barossa food.
Balloon Adventures has been a family owned and operated business since 1986. We have flown thousands of very happy people of all ages over the years. We are an
accredited hot air ballooning company approved through the Civil Aviation Safety Authority.